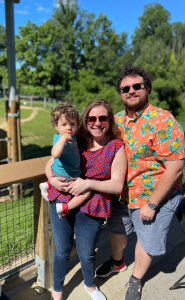 For Jordan Halle, Father's Day is an anchor point. It's a chance to not only turn on the grill, which we will get to in a moment, but it's an opportunity for family to get together to create new, cherished memories.
That's why we met with Jordan at his home in Owings Mills to talk about all things Father's Day, family and, of course, burgers.
"People like to knock on Father's Day and Mother's Day as a Hallmark Holiday," Jordan says to us while preparing burgers, Halle style. "There might be some truth to it, but it's a nice point in time in the summer for the family to come together."
Family is important to Jordan and his wife Jessica, both of whom serve on the board in The Associated's Young Adult Division (YAD) and who also co-chair The Associated's Ben-Gurion society.