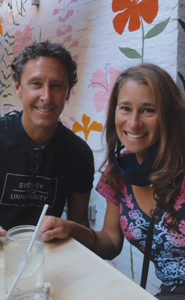 Shari Malinow, current member of the Baltimore-Ashkelon Partnership transition and engagement committee, has been involved in the Baltimore Jewish community for many years. We sat down and talked with her about family, staying physically and mentally fit and remaining involved in the community she loves.

Current Situation in Israel
It has been two years since we were in Israel -seeing and enjoying Ashkelon. I have been in contact with friends that I met through the Baltimore-Ashkelon Partnership. I feel so helpless and can't imagine what they and their families are experiencing. My daughter is also in touch with friends from Ashkelon. In fact, one friend from eighth grade (both attended Krieger Schechter Day School) shared a video from Israel of himself and a neighbor, an 80-year old man who was alone in his home when a missile bombed. The video was recorded just minutes later and the man was confused and distressed. This is so heartbreaking. I continue to send wishes and prayers for peace.