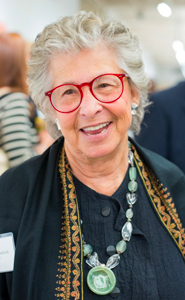 When you talk about Barbara Levin Himmelrich and look at her numerous volunteer accomplishments, it is quite apparent that she was tenacious, a go-getter and a community builder. In fact, this is a woman you could count on to get things done. 
For over seven decades Barbara was at the forefront of making change, a champion of both the Jewish community as well as an advocate for numerous social action, women's and arts causes. 
Barbara grew up in Newton, Mass., a suburb outside of Boston. One of two children, she lost her mother in the Coconut Grove Night Club fire when she was a young girl. It was a defining moment in her life, she once told her granddaughter in an interview she gave to her on NPR's StoryCorps program.