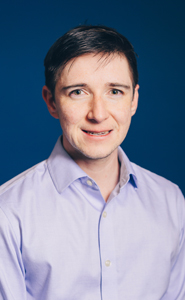 Allister has been involved with IMPACT for the past two years after initially joining CHAT (Conversations Happening Around Town). He is currently a postdoctoral fellow in the Department of Biomedical Engineering at Johns Hopkins School of Medicine in the ASPIRE program and is a co-instructor of organic chemistry lab at Coppin State University as part of the ASPIRE program. When he's not working as a postdoc, he can be found volunteering with Repair the World.
Learn more about Allister.
How did you first get involved with The Associated?
I first got involved with The Associated as I was looking for volunteer opportunities within the Baltimore Jewish community after I graduated from grad school. I met with Rebecca Ellison, who was the senior development associate for IMPACT at the time, and she gave me wonderful suggestions based on my volunteer interests and passions. I joined one of IMPACT's CHAT groups and then one opportunity led to another. I have been so grateful for the events that I have been able to attend and groups that I have been part of in The Associated.