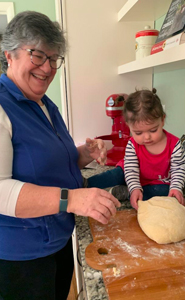 It was December 2019 and after 30 years of working as an attorney—most recently as Vice President and General Counsel at the University of Maryland Global Campus—Maureen David was ready to retire. 
She had a grandchild with whom she wanted to spend special time, as well as a bucket list of interesting places to travel. And of course, for this former librarian, there were plenty of books to read. 
Two months later, after a trip to Egypt with her husband—the first in a long list of bucket trip adventures – the pandemic hit. She suddenly realized life doesn't always go as planned. But that didn't deter her.