The Briefing Room: Inside the Middle East
---
Presented by The Associated's Insight Israel Forum
December 5
@
9:00 am
–
10:30 am
Topic: Uprising in Iran: A Struggle Over Identity
The Briefing Room will equip leaders with the knowledge to understand the Middle East's most critical geopolitical developments and will help build a multidimensional picture of this complex and dynamic region.
Please join us for this exclusive, interactive virtual series that provides the skills and tools needed to better understand current events as they unfold.
The Briefing Room features Avi Melamed, one of the Middle East's foremost intelligence analysts and an expert on current affairs in the Arab and Muslim world.
The December Briefing Room is entitled Uprising in Iran: A Struggle Over Identity, featuring regional guest Meir Javedanfar Ph.D., Iranian-Israeli Lecturer, Author and Commentator.
Multi-session event. Participation in all sessions is strongly encouraged.
Zoom link will be sent in follow-up confirmation email.
Questions? Contact Sarah Jacobs at sjacobs@associated.org
In keeping with our Jewish values, The Associated supports a thriving Baltimore that celebrates diversity and appreciates the unique combination of gender, race, age, religion and ethnicity, sexual orientation, cognitive and physical disabilities and special qualities that each resident adds to the fabric of life in Baltimore. We welcome everyone interested in our mission to join us. If you require accommodations, please contact us, and we will make every effort to meet your needs.

Live-captioning is available through Maryland Relay Service. Generally, 48 hours advance notice is required to set this up.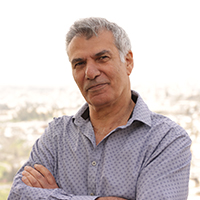 Avi Melamed is an expert on current affairs in the Arab and Muslim world and the founder of Inside The Middle East: Intelligence Perspectives. He is a former Israeli Senior Official on Arab Affairs. Fluent in Arabic, English and Hebrew, Avi has held advisory, policy, high-risk counter-terrorist and intelligence positions throughout the region on behalf of the Israeli government. He has authored and co-authored several books, including Inside the Middle East: Making Sense of the Most Dangerous and Complicated Region on Earth, and Separate and Unequal: Israel's Rule in East Jerusalem. His newest book, Inside The Middle East: Entering A New Era, was published in February 2022.
Meir Javedanfar Ph.D. is an Iranian-Israeli lecturer, author and commentator. He has been teaching Iranian politics at Reichman University in Israel since 2012. Since 2021, he has also been teaching the "Political Economy of the Middle East" course at Reichman University. He is the co-author of Ahmadinejad's biography The Nuclear Sphinx of Tehran, published in 4 languages. He has published many articles on Iran for publications including Foreign Affairs, Al-Monitor, The Diplomat and The Guardian. Meir Javedanfar has given lectures at over 20 universities. His Ph.D. thesis dealt with Mohammad Reza Shah's security decision making in relation to threats posed by Iraq and the Soviet Union. Meir speaks Persian, English, Hebrew, Spanish and Portuguese fluently.