The Associated's Community Event
---
Join us for an evening you won't soon forget! You'll be amazed at how good it feels to suspend reality for an hour while with all of Jewish Baltimore – all while supporting the important work of The Associated.
Prepare to be wowed by Oz Pearlman, Emmy Award winning mentalist and illusionist and one of America's Got Talent most memorable contestants. In 2018, he joined an elite few, including David Blaine and David Copperfield, to have their own TV special on a major national network. Oz Knows aired on NBC multiples times to rave reviews.
This family-friendly virtual event is open to all households that have made a gift to the 2021 annual campaign. Haven't made your gift yet? You can do so right now!
Make Your Own Magic Pre-Glow
7:00 – 7:30 pm
Donors of $1,000+ and monthly donors are invited to see old and new friends and warm up for the show.
Details to follow.
IMPACT After-Glow
8:30 – 9:30 pm
Don't want the party to end? Young adults, ages 22-39, are invited to meet and mingle and keep the magic going.
Details to follow.
Registration For This Event Is Closed.
In keeping with our Jewish values, The Associated supports a thriving Baltimore that celebrates diversity and appreciates the unique combination of gender, race, age, religion and ethnicity, sexual orientation, cognitive and physical disabilities and special qualities that each resident adds to the fabric of life in Baltimore. We welcome everyone interested in our mission to join us. If you require accommodations, please contact us, and we will make every effort to meet your needs.
Live-captioning is available through Maryland Relay Service. Generally, 48 hours advance notice is required to set this up.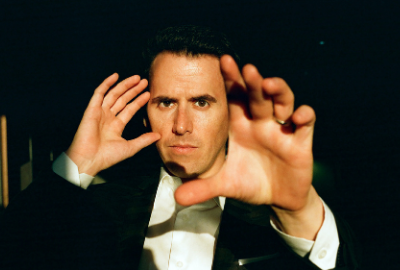 Oz is one of the most sought after mentalists in the world. He developed an interest in magic at a young age and what started as a hobby ended up becoming a lifelong passion. After acouple of years spent working on Wall Street, Oz decided to pursue his dream and become a full time entertainer. He has now been dazzling audiences with his mind reading ability for over two decades!
Oz's unique blend of mind reading and mentalism create an interactive experience that isredefining the very nature of a magic show…one that truly needs to be seen to be believed!
Leadership
Amanda and Stu Levine
The Event Co-Chairs
The Event Host Committee
Chavi and Moishe Abramson
Pam and Robert Friedman
Tammy and Fred Heyman
Cindy and Harvey Kasner
Jen and Jake Lieberman
Stephani and Mark Renbaum
Rachel Samakow and Hirsh Ament

Mindy and Matthew Silverman
Monica Harris Susel and Steve Susel
Beth and David Swirnow
Jodi Teitelman
Chantelle Terrillion-Fink and Joel Fink
Nissa and Paul Weinberg
Linda A. Hurwitz and Philip E. Sachs
Development Co-Chairs
2021 Development Cabinet
Katie Applefeld
Sheldon Caplis
Maury Garten
Daniel Klein
P.J. Pearlstone

Amy Pollokoff
Elise Rubenstein
Yanky Schorr
Jill Snyder
Beth H. Goldsmith
Chair of the Board

Marc B. Terrill
President