Table Talk Yerushalmi* PODS
Prohibition Pickle – Illicit Delicacies
---
*A Yerushalmi is someone who lives in Jerusalem
December 1, 2020
@
1:00 pm
–
2:00 pm
The Associated's Insight Israel Forum, in partnership with Shabbat of a Lifetime (SOAL), are offering, for the first time ever, the opportunity to virtually sit at the Shabbat table and build personal relationships and connections with local Jerusalemites. Table Talk Yerushalmi provides dynamic, interesting personal stories of diverse Israelis and reflections on daily life in Israel.
Meet Your Table Host: Chaim Davids
The backers backed out, the bank said NO, and Chaim was left with no choice but to join the underground. What came next was the greatest bootlegging the Judean Hills have seen since the sacred olive oil production under the Assyrian-Greek occupation during the Hasmonean dynasty.
Event Zoom link will be provided in your confirmation email.
In lieu of registration costs, please consider a donation to The Associated. The needs of our community continue to grow as the COVID-19 pandemic expands. The Associated is positioned to respond quickly to these needs. Our Annual Campaign needs your financial support now more than ever.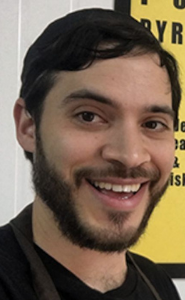 A native of Baltimore, Chef Chaim Davids has a committed passion for the art of handcrafted food. Growing up in a large Jewish family and community, Chaim developed a strong passion for Judaism and a finely tuned sensitivity to its dietary laws. Following his heart and his stomach, he immersed himself in the world of fine Kosher cooking.