Table Talk Yerushalmi* PODS
Modern Israel: Founding Fathers
---
*A Yerushalmi is someone who lives in Jerusalem
PLEASE NOTE DATE CHANGE
December 14, 2020
@
1:00 pm
–
2:00 pm
The Associated's Insight Israel Forum, in partnership with Shabbat of a Lifetime (SOAL), are offering, for the first time ever, the opportunity to virtually sit at the Shabbat table and build personal relationships and connections with local Jerusalemites. Table Talk Yerushalmi provides dynamic, interesting personal stories of diverse Israelis and reflections on daily life in Israel.
Modern Israel: Founding Fathers
Lifelong stories from a man that rubbed the shoulders with Israel's founding fathers.
Meet Your Table Host: Uriel Bachrach
Join acclaimed Professor, Uriel Bachrach in hearing his lifelong story as a young child leaving Nazi Germany. As a university student at the Hebrew University joining the ranks of the Hagana and becoming one of the founders of Israel's military weapons program. Finally, being tapped by Prime Minister, David Ben Gurion to build the young Jewish state's nuclear capabilities.
Event Zoom link will be provided in your confirmation email.
In lieu of registration costs, please consider a donation to The Associated. The needs of our community continue to grow as the COVID-19 pandemic expands. The Associated is positioned to respond quickly to these needs. Our Annual Campaign needs your financial support now more than ever.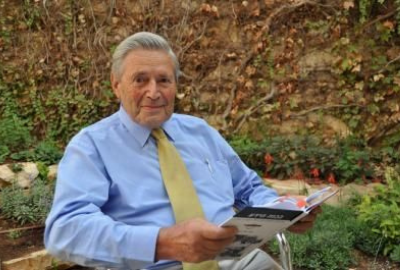 Professor Bachrach, who served for more than 60 years as a professor of micro-biology at the Hebrew University Faculty of Medicine from its inception, was born in Germany 1926 and emigrated to Israel, where he earned his Ph.D at the Hebrew University. He served during his career as a visiting professor or scientist at universities in the United States, Italy and Ethiopia and received an honorary doctorate at the University of Bologna in 1995.