Discover How to Lead a Meaningful Life with the Solomon Society
---
The Associated's Solomon Society welcomes Rabbi Daniel Cohen, author of What Will They Say About You When You Are Gone? Creating a Life of Legacy, and The Secret of the Light and speaks nationally on leading a life of legacy.
Rabbi Cohen will share with you how to unlock life's unforgettable moments to enable you to reverse engineer your life and create everlasting memories each and every day. Learn how to create intentional memories to help us live meaningful lives and leave lasting imprints on the future.
Each attendee will receive a free, autographed copy of What Will They Say About You When You're Gone? Creating a Life of Legacy.
Solomon Society recognizes men, ages 45-64, of households giving $10,000 or more to The Associated's Annual Campaign.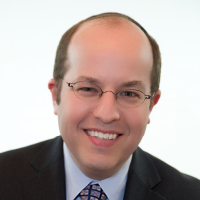 Popular motivator, mentor, and inspirational speaker, Rabbi Daniel Cohen's unique blend of authenticity, humor, wisdom and insight helps anyone better navigate contemporary society and lead a life of legacy. Engaging in hundreds of end-of-life conversations and delivering thousands of eulogies provide him with a unique perspective on the essence of a meaningful life. Rabbi Cohen has served in the rabbinate for over thirty years and currently serves as senior Rabbi at Congregation Agudath Sholom in Stamford, CT, the largest modern orthodox synagogue in New England. He is co-host with Reverend Greg Doll of the nationally syndicated Radio Show, The Rabbi and the Reverend and writes for the Huffington Post Blog and is a Bottom Line Inc. Expert. For more information and the latest media appearances, speaking topics, videos and more visit rabbidanielcohen.com.
BGE • Capital Funding Group • Len Stoler Automotive • MileOne Autogroup • Trius Lending Partners
Brown Advisory • Hoffman & Co. • MedStar Health • Miles & Stockbridge • M&T Bank • PNC Bank • PSA Insurance & Financial Services • Truist
Advance Business Systems • Alliance Material Handling • Eastern Savings Bank • First National Bank • Merritt Properties • MOI • RBC Wealth Management • Residential Title & Escrow Company • Safeway • Schoenfeld Insurance Associates • ShopRite • SOS Technology • T. Rowe Price • Venable LLP • WesBanco