PGRT – Tax Advantaged Business Sales
---
October 13, 2022
@
8:00 am
–
10:00 am
8:00 a.m. — Networking
8:30 a.m. — Program
Presenter: Tiffany House, CAP®, CEPA, FCEP
Vice President of Thompson & Associates
We are entering the largest wealth transfer in history as the baby boomers (the most entrepreneurial generation) retire and leave their legacy. Entrepreneurs are the most philanthropic group of people and most of their wealth is tied up in their business. These factors are creating the perfect storm for gift planning.
In this presentation, we will graphically explore tax advantaged planning tools and discuss when they can apply for certain types of businesses and owners' circumstances. We will go over 2 real life case studies of business sales with details on the process of determining the best outcomes for the business owner and society. Be prepared to interact and collaborate with other advisors over some case studies.
In keeping with our Jewish values, The Associated supports a thriving Baltimore that celebrates diversity and appreciates the unique combination of gender, race, age, religion and ethnicity, sexual orientation, cognitive and physical disabilities and special qualities that each resident adds to the fabric of life in Baltimore. We welcome everyone interested in our mission to join us. If you require accommodations, please contact us, and we will make every effort to meet your needs.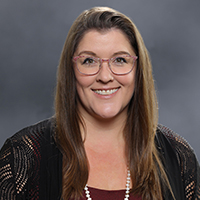 Tiffany House, CAP®, CEPA, FCEP, is a tax, estate, and charitable strategist. She works as a consultant with families and helps guide them through intricate and essential situations including transitioning a business, planning philanthropy, values-based estate planning, and tax concerns. She works as a liaison with the advisory team to enhance efficiency, provide a comprehensive overview of opportunities, and ensure that the client's best interests are always first.
Being an active member of the community is important to Tiffany. She is an active board member, board president, and advisory board member of multiple nonprofit organizations. She practices personal development and mentorship on a continual basis. She also enjoys speaking nationally on tax, estate, and charitable strategies.
Tiffany studied Environmental Science at the University of Arizona and accepted a NASA Grant Internship working on documentation of Global Climate Change in the 1990s. After college, she owned and operated Koocanusa Resort & Marina in Libby, Montana where she was able to gain a much deeper understanding of the ecosystems and human interactions. She then joined the family business of wealth planning, MasterTech Financial, where she worked with ultra-high net worth clients and helped them with their complicated business and estate planning needs. She left financial advisory after nearly 20 years to be a fiduciary consultant and founded the Gift Planning Institute, helping nonprofits with complicated asset gifts, and Tax & Estate Strategy, where she works with families with complex circumstances and their advisors.
Tiffany and her 3 lovely daughters and amazing husband live on an urban farm. Training horses is her passion. She is dedicated to the classical pursuits of dressage and Spanish Riding. Tiffany's family also enjoys sharing their life with a wide variety of animals including ducks, chickens, dogs, cats, bunnies, fish, reptiles, and horses.