Odessa: Genius and Death in a City of Dreams
---
A personal conversation with author Charles King
Join us as we hear from author Charles King about his book, Odessa: Genius and Death in a City of Dreams, which encompasses the secular and Jewish history of Odessa. 
Q&A will follow a short presentation.
Books will be provided to the first 25 people who register.
Prior reading of the book is not required.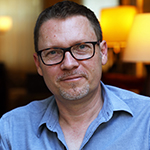 Charles King is Professor of International Affairs and Government at Georgetown University. King's research has focused on nationalism, ethnic politics, transitions from authoritarianism, urban history, and the relationship between history and the social sciences. His book, Odessa: Genius and Death in a City of Dreams (W. W. Norton, 2011) received a National Jewish Book Award.
King has been a Fulbright scholar, a Fellow of the Woodrow Wilson Center and a Public Scholar of the National Endowment for the Humanities. His research has been supported by the Social Science Research Council, the International Research and Exchanges Board and the Kennan Institute for Advanced Russian Studies. A member of the Council on Foreign Relations and a frequent commentator on global affairs, King has published essays in many international publications.
King holds a bachelor's degree in history and philosophy from the University of Arkansas, a master's degree in Russian and East European Studies and a doctorate in Politics, both from Oxford University, where he was a British Marshall Scholar.