Conversation with
MK Tehila Friedman
---
*This event is by invitation only
November 12, 2020
@
12:00 pm
–
1:00 pm
You are invited to a lunchtime briefing featuring new Knesset member Tehila Friedman.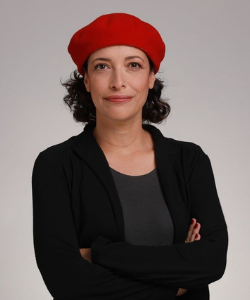 MK Tehila Friedman is a social entrepreneur, leading Israeli activist, and thinker and writer. Her work focuses on fostering social solidarity and pluralism, creating inclusive religious life and confronting the growing rift in Israel-Diaspora relations.
Today she is the head of Jewish Peoplehood department at the Shalom Hartman Institute in Jerusalem and a senior fellow at the "Shaharit" Institute, a think tank and leadership incubator that promotes a politics of common good.
Tehila is a lawyer and holds an advanced legal degree from Hebrew University. She has pursued religious studies at Midreshet Lindenbaum and Beit Morasha. She completed a two-year fellowship at the Mandel Leadership Institute in 2014. Tehila lives in Jerusalem with her husband and five children.
Zoom link provided upon registration.
This is a Joshua Society event for donors giving $10,000 or more to the annual campaign and is presented in partnership with The Associated's Insight Israel Forum.
Co-Chairs Insight Israel Forum
Lisa Abrams
Atara Frankel
Will Minkin
2021 Philanthropy Leadership
Linda A. Hurwitz
Philip E. Sachs
Co-Chairs, 2021 Philanthropy
John Davison
Joseph Weinberg
Co-Chairs, Centennial Campaign
Daniel J. Klein
Chair, Major Gifts
P.J. Pearlstone
Elise Rubenstein
Co-Chairs, Leadership Gifts
Sheldon Caplis
Chair, LIFE & LEGACY
Amy F. Pollokoff
Chair, Women's Campaign
Catherine G. Applefeld
Chair, Keynote Gifts
Morris L. Garten
Chair, Annual Campaign Strategies
Yanky Schorr
Chair, IMPACT Campaign
Beth H. Goldsmith
Chair of the Board