Associated Women and
Jewish Professional Women's LeadHERship Event Presents:
Playing Big with Tara Mohr
---
May 26, 2021
@
7:00 pm
–
8:30 pm
Playing Big is being more loyal to your dreams than to your fears.
Join Associated Women and Jewish Professional Women for their signature LeadHERship event featuring Tara Sophia Mohr, an expert on women's leadership and well-being, author, educator and coach.
Whether you are a CEO or a professional volunteer, Tara's message will speak to you.

Questions? Contact Ilana Matheson at imatheson@associated.org or 301-980-5884.
In keeping with our Jewish values, The Associated supports a thriving Baltimore that celebrates diversity and appreciates the unique combination of gender, race, age, religion and ethnicity, sexual orientation, cognitive and physical disabilities and special qualities that each resident adds to the fabric of life in Baltimore. We welcome everyone interested in our mission to join us. If you require accommodations, please contact us, and we will make every effort to meet your needs.

Live-captioning is available through Maryland Relay Service. Generally, 48 hours advance notice is required to set this up.

As part of this event, we will be facilitating networking by distributing contact information. If you do not wish for you contact information to be shared, please opt out by contacting Ilana Matheson imatheson@associated.org or 410-369-9295.
JPW Co-Chairs:
Tracee Fruman
Debbie Lubliner
JPW Event Co-Chairs:
Edye Abrams
Mandee Heinl
JPW Committee
Cheryl Abrams • Edye Abrams • Hindy Abramson • Robin Belsky • Dori Chait • Mandee Heinl • Sherry Nachman Kurland • Devorah Miller • Shoshi Ponczak • Ali Raphael • Melanie Shapiro • Ilana Subar • Monica Harris Susel • Claire Tesh • Heidi Topaz
Associated Leadership
Jessica Bronfein
Chair, Associated Women
Amy Pollokoff
2021 Women's Campaign Chair

Beth H. Goldsmith
Chair of the Board
Marc B. Terrill
President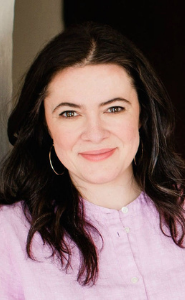 Tara Sophia Mohr is an expert on women's leadership and well-being, and an author, educator and coach. Tara is the author of Playing Big: Practical Wisdom for Women Who Want to Speak Up, Create, and Lead, published by Penguin Random House, and named a Best Book of the year by Apple's iBooks.

She is the creator of the pioneering Playing Big leadership program for women, and Playing Big Facilitators Training for coaches, mentors and managers who support women in their personal and professional growth. Her work has been featured on The Today Show and in publications ranging from The New York Times to goop to Harvard Business Review.
She has been a speaker at venues and companies including Watermark, TedxWomen, Emerging Women Live, Yelp and Intuit, and her Playing Big model has been part of leadership development programs at Starbucks, Google, Zillow, Bank of America, and many other companies. The Playing Big concepts have also been incorporated into middle and high schools in the US and UK to support girls' leadership development.

Tara received her MBA from Stanford University and her BA in English Literature from Yale University. She lives in San Francisco and loves dance, art, and long walks with her family. Discover more about Tara Mohr and Playing Big.