Being Heumann
An evening with the Baltimore Jewish Abilities Alliance and Disability Rights Activist Judy Heumann
---
February 22, 2022
@
7:00 pm
–
8:00 pm
Join the Baltimore Jewish Abilities Alliance to celebrate Jewish Disability Awareness, Acceptance and Inclusion Month with Judy Heumann, groundbreaking civil and disability rights activist and self-advocate.
Hear about her experience as a leader in the movement to ensure that people with disabilities have a place in our community.
A Zoom link will be provided following your registration.
The Baltimore Jewish Abilities Alliance (BJAA) is our Jewish community's network that links individuals with disabilities, and their families, to resources, services, support groups, workshops and clinics and recreational programs within our community.
In keeping with our Jewish values, The Associated supports a thriving Baltimore that celebrates diversity and appreciates the unique combination of gender, race, age, religion and ethnicity, sexual orientation, cognitive and physical disabilities and special qualities that each resident adds to the fabric of life in Baltimore. We welcome everyone interested in our mission to join us. If you require accommodations, please contact us, and we will make every effort to meet your needs.

Live captions will be provided. Please contact us if you need any further accommodations to participate.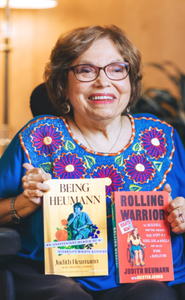 Judy Heumann is an internationally recognized leader in the disability community and a lifelong civil rights advocate for disadvantaged people. She served as the first Special Advisor for International Disability Rights at the U.S. Department of State from 2010 – 2017 under the Obama Administration.
Janet Behrend Livingston
Janet is The Associated Abilities and Inclusion Thought Partner and sits on the board of Jewish Community Services and The Associated and Associated Women. She is the parent of an adult son, 29, on the Autism spectrum. He is currently a client of Itineris of Baltimore, a supported employment agency for adults with autism.
Sue Rabin
Sue, a retired speech-language pathologist, is an active member of the Baltimore Jewish community. She currently sits on the board of SHEMESH, the Macks Center for Jewish Education and Beth Israel Congregation.